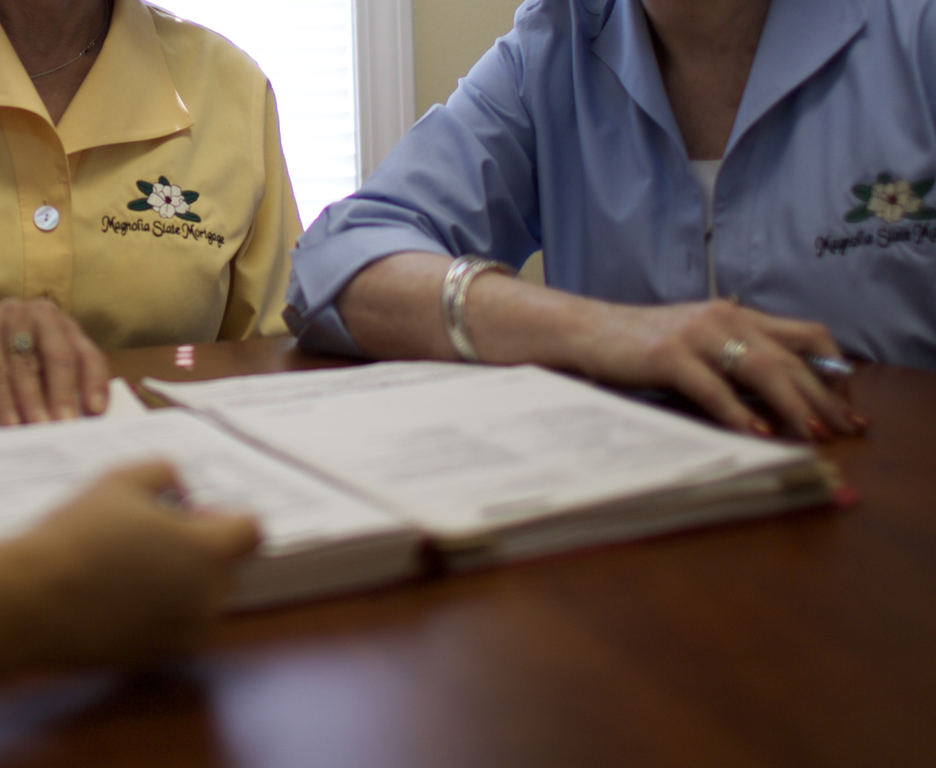 Pre-Approval
Getting Started
Finding your dream home might be challenging, but obtaining the perfect financing is simple when you work with Magnolia State Mortgage. As you probably know, a mortgage is a loan used to purchase a home – and selecting the right mortgage involves working with an experienced professional who knows how to lead you through the process. When you meet with us, you'll discuss your financial background, employment, current financial goals, and future plans.
The pre-approval process is the first step in the home buying process. A pre-approval document is generated by us supporting your ability, as a buyer, to repay your forthcoming mortgage. It often involves a complete loan application and a summary providing valuable information to your real estate agent relating to the amount you can afford and other applicable conditions.
5 Things to Know When Shopping for a Home
Credit History
Your credit score will play a big factor not only in your mortgage approval but also the rate you receive. This score is influenced by your responsibility: Do you have a consistent history of paying your bills on time? A lower credit score does not automatically disqualify you – there are options for every type of borrower. We will help you review your credit report and help you repair your score during the pre-approval process.
Monthly Debt
The total amount of money you owe to creditors factors into your eligibility for different types of mortgage programs. We will review your monthly debt obligations, as well as the proposed mortgage payment. When assessed alongside your monthly income, these produce a monthly debt ratio, which is used as the benchmark for mortgage approval.
Income
Job and income stability are as important as the debt you carry, since they speak directly to your ability to pay back your mortgage. We will review all of your usable income, including salaries, commissions, collected rent, and any other supplemental money you may make throughout the year, and determine whether you can afford the mortgage you are looking to receive.
Assets
Your assets describe the savings you have now. How much can you afford to put down as an initial payment? Do you have reserves in other, less liquid instruments, such as retirement programs or money market accounts? Note that although having a large asset base will help you qualify for the loan, there are options that may allow you to move forward even without money down. We can help advise you on usable assets and whether or not any of your funds should be moved or adjusted in order to give you the easiest possible path to approval.
How long will it take to close this loan?
Generally we can close your loan comfortably within your interest rate lock period. However, if there are delays in submitting the required documentation, or there is a problem with your title work or appraisal, your lock period may not be sufficient.
Purchases
Any large purchases or major fund transfers between the start of the process and closing the sale could change your credit and asset levels, and affect your ability to qualify for the mortgage. Consult with us before making any such purchases.
Home Loan Process Fees
A home purchase requires you to budget and organize your finances very specifically. There are several different fees associated with the process, and having the funds available to pay those fees when they occur will be crucial towards your goal of owning a home.
Down Payment
The formula here is simple: The more money you can pay up-front, the less you will need to borrow, and the less you need to borrow, the less you need to pay each month for your mortgage. Under some circumstances, you may still qualify for a mortgage with little to no money down, so make sure to discuss your options with us.
Closing Costs
There are several individuals and organizations involved with any home purchase, and their services incur fees. You will need to prepare your budget for appraisal costs, attorney fees, lender fees, and costs related to title company services. We will help you estimate the total for these additional fees.
Insurance
By law, any homeowner must obtain an insurance policy to safeguard against losses due to fire, flood, or storm damage. You can either pay this premium separately, or use escrow to include your premium payment along with your mortgage payment. Shop around to get the best possible price.
Home Inspections
You will obviously want to know your new home inside and out before you make a purchase, and the best way to get a full picture is to employ the services of a professional home inspector. This cost is separate from the mortgage lending process; it is paid to the inspection company and is not refundable, even if the home purchase itself does not go through.
Attorneys
There are many legal matters involved with a new home purchase, and they can be confusing to navigate without the aid of an attorney. You may wish to contract this legal help to review contracts, resolve any disputes between yourself and the seller, and make sure all of your documentation is properly filled out and processed.
Closing
The final and most exciting event of the home buying process is the closing. At the closing, you'll sign a closing package containing numerous documents including your final mortgage note and settlement sheet outlining your agreement with the
seller. Before you dash out the door to close the deal, make sure you have the following items and information:
Required Funds
Bring a cashier's check for your down payment and closing costs. Make the check out to yourself – you'll endorse the check to the title company at the closing.
Location
Write down the time and address of the title company – along with the phone number. If you're running late, call the title company and ask them to inform the closer of your situation.
Extra Time
We strive to streamline the loan process – and are always on time. However, third parties can cause delays. Don't plan any major events – especially a moving deadline – too soon after your closing, unless you've arranged for an alternate person to supervise your move.
Power of Attorney
Many clients plan to sign their documents on behalf of themselves AND their co-owners. This can ONLY be done with a Power of Attorney document stating that the absent borrower gives the present borrower signatory privileges for the closing.
Identification
Bring at least one form of picture identification such as a driver's license, state ID or U.S. Passport. Please ensure that this documentation has not expired.
Federal Housing Administration
Address
1412 Peterman Dr, Alexandria, LA 71301
Contact Us
(318) 561-8020
Hours
Mon – Fri:
9am – 4pm
Email Us
office@magnoliastate.biz